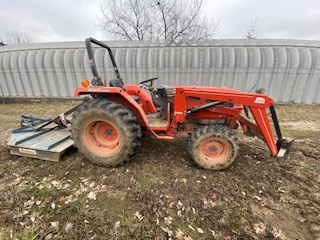 Absolute Auction
16321 Dry Ridge Rd.
Jeffersontown , KY 40299
RE/MAX Group Auctioneers is presenting an Absolute Auction for a home, farm and personal property in Jeffersontown, KY.  This auction will be held on site on Saturday, July 11th at 11:00 am EDT.  Signs will be posted.  Click here for directions.
This is a gorgeous hobby farm set up for horses or cattle.  The home features 3 bedrooms with patio, covered front porch, large eat-in kitchen and million dollar view of this 15± Acre hidden gem.
We will be selling Kioti 4×4 Tractor, Kubota Diesel 72″ zero turn mower, Kubota side by side utility vehicle with electric dump, 12′ dump trailer, tools, farm implements, livestock trailer, trailers, gates, like new manure spreader, autos, power tools, mechanics tools, chainsaws, wood working tools, hand tools, air compressors, and much more.
SOLD! - $280,570
The Farm
KIOTI Rhino DK45 Tractor
Kubota RTV900 4x4 Diesel Side by Side with Dump Bed
John Deere Trail Gator 4x2
Vehicles
Other Vehicles
Farm Implements
Kubota ZD28 Diesel 72″
Craftsman toolboxes
Porter cable 135 PSI A/C
Gas cans
Teeumseh power drill gas power
Weedeaters
War trimmer and extension pole
Poulan pro 50 cc chainsaw
Husqvarna 350 chainsaw (2)
10 gallon 3HP shop vac
Rigid 6,800 watt generator
Home lite 240 chainsaw
DeWalt scroll saw
Craftsman table saw
Delta jointer
Delta 12″ planer
B&D Skil saw
Jet burch grinder 8″
Craftsman 15″ drill press
Craftsman router
Reddy heater 50,000 BTU
Electrical wire
B&D chop saw
5 gallon sand blaster
Hobort Handler 175 welder
Phoenix wood stove w/magic heat box
Ramset w/shots
Garage/barn heater
Nuts, bolts, screws, and nails
Hoses, clamps
Floor jack
Jack stands, jack posts
Tow ropes
Mower blades
Trailer hitches
Screwdrivers, hammers, wrenches
Rakes, shovels, trimmers
Lincoln electric arc welder
Acetylene torch setup
60 gallon 7HP Campbell Hausfeld castiran air compressor
2 HP Sears air compressor
Ladders
Wheelbarrow
Truck tool box
Yard machines tiller
Craftsman 6.75HP brush cutter
Water troughs
DeWalt chop saw
Kubota 4×4 diesel side by side RTV900 w/dump
John Deere trail gator 4×2
Small trailer
Push mowers
Yard seeder
Log splitter w/Honda 5HP
Blue Hawk grass catcher
Howard rotarator J-tiller
Magic Chef mini fridge
Old computers
Stand fans
12″ trailer
Small lawn dump trailer
Snowmobiles (non-functional)
Tractor bucket
Rhino Kiofi DK45
Hay spears (2) front and rear mount
Cattle gates- 4′, 6′, 8′ and pans
King Kutter 6′ stumpjumper
16′ hog panels
Pallet forks w/platform
Gooseneck stock trailer
Rake for tractor
Grater box
Manure spreader
Gehl grind-all hammer mill
Craftsman riding mower
Single blade plow
Auger attachment for tractor
Rolls of fencing
Snowmobile carrier for 2
Storage barrels
Hi Tensile fencing wire
Square hay bale conveyor
Engine hoist
Air compressor
Cattle feed trough 10′
Dehumidifiers
Trailer axels
Water pumps
Wagon
Air tank
POWD scoop attachment for tractor
Watertanks
Ford minivan (scrap)
W-W trailer mini stock trailer
Scrap metal
Hay feeders
Corrugated pipe
Hoist
Tractor auger
Electric fence boxes
Angle iron
Cast iron pipes
Cattle shute
T-posts
5 round hay bales
5th wheel plate
Horse tack
Saddle
Screen porch setup
4×4 posts
Vinyl decking
Miscellaneous vinyl records
2013 10′ electric Diamond dump trailer
1995 Ford Windstar GL minivan (mileage 145,489 not running)
1996 Chevrolet 1500 extended cab (mileage 144,821 not running)
2000 Jeep Cherokee sport 4×4
Electric push mower
CharBroil S/S gas grill
Outdoor furniture and chairs
Decorative wagon wheels
Pellet stove w/blower
Furniture and household goods
Gas range
Antique oil lamps
Antique glasses and dishes
Carriage House china set
Precious Moments
Avon items
Budweiser thermometer
Brand new shower stall and jetted tub
Vanity and towel linen closet
Marcy exercise bike
4′ level
Antique parlor chair
Golf display cabinet
Portalle ice maker
Small washboard w/glass panel
Zoom paint sprayer
Antique/metal writing desk
Wood laminate book case
Hat box
Antique clock
Fur pelts
DIRECTIONS: From I65, take exit 117 towards for KY-44 toward Mt Washington/Shepherdsville.  Turn left onto State Hwy 1319.  Turn left onto KY-1531.  Turn right onto Routt Rd.  Turn right onto Dry Ridge Rd.  Property will be on the left.  Signs will be posted.
Terms & Conditions
There will be a 10% buyer's premium added to determine the final sale price.  6% Sales Tax on personal property.  A total of 15% down the day of sale on real estate, balance within 30 days or less.  Personal property cash or good check due in full day of sale.  2020 real estate taxes will be prorated.  Sold "AS IS WHERE IS" without expressed or implied warranty.  New buyer will receive possession day of closing.  All verbal disclosures the day of sale take precedence over any terms here.  Guaranteed marketable title, free of all liens and encumbrances.