SOLD - $26,172
Absolute Auction
16200 Dixie Beach Rd
West Point, KY 40177
Plus Personal Property
Guns | Ammo | Reloading Equipment
Fishing Gear and More!!!
DIRECTIONS: From Elizabethtown, take 31W North.  Turn left on Dixie Beach Road.
Handguns
UZI Model B Full Auto
*All applicable licenses are required for the purchase of fully automatic firearms.
Long Guns
Perazzi MX-15 Shotgun

Safes, Reloading, Ammo, & More
Lowe Aluminum Boat
Fishing Gear
Knives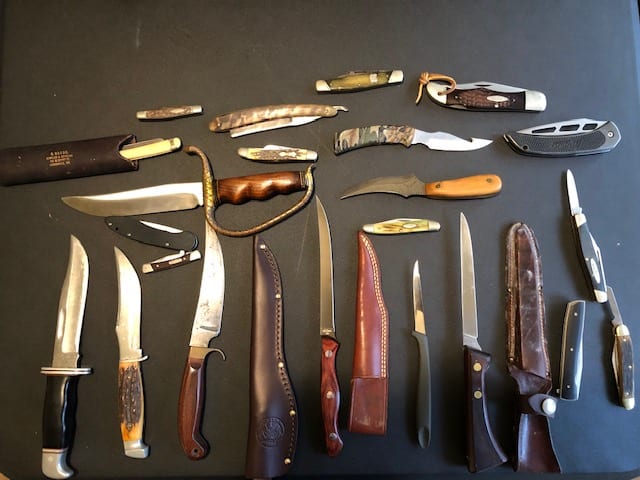 Taxidermy
Misc. Items
Guns
Uzi Modle B 9mm FULL AUTO
Colt Python 357 Revolver
Perazzi MX-15 12 GA Combination Trap Gun
Engraved Browning 725 Citori 12GA over Under Shotgun
High Standard Supermatic 22LR pistol
Beretta Single Shot 410 shotgun
Remington Speedmaster 552  22 Short with Leupold Scope
Ruger Model 77 22 Long Rifle with Burns Scope
Weatherby Mark XXII 22 Long Rifle with Pine Ridge Scope
Russian Mosir Nagart M91/30 7.62x54R Rifle
New England Firearm 12GA shotgun
Sako L61R 264cal Rifle with Leupold Scope
Remington Sportsman 58 20GA
Huglu Arms Side By Side 12 Gauge Double Barrell Shotgun
Marlin .17cal Rifle with Leupold Scope
Charter Arms Pathfinder 22 Revolver
Browning 9mm Pistol
Thompson Center Firearm Super 14 with 30/30 Win and 223 Win (with scope) changeable barrels
Beretta M91A 9mm with Light
Glock 42 380
Glock 43 9mm
Ruger GP100 357
Beretta Pico 380

Colt AR15 M14A 223 with scope and light

Browning Black Label 1911 380

Smith and Wesson Airweight 38 special
Ammo 
22 long
22 Short
.264
9mm
380
30-30
38 special
5.56
.223
.17
12 GA
20 GA
410
Reloads 12 and 20 Gauges
Reloaders
MEC 9000 Series Shotgun
MEC Rifle
Yardage Scope
PSE Heritage Series Long Bow
Bear Curved Bow with Arrows and quiver
Arrow Head Framed Collection
Numerous Knives
Rods & Reels
6'x10' Box Trailer
Toro Zero Turn Mower
Hoosier Cabinet and Pantry
Sentinel Gun Safe
Large Gun Safe (no brand)
Fishing Tackle with Cases
Numerous Gun Holsters
Numerous Long Gun Cases
Numerous Gun Stocks and Misc. Parts
Chainsaw
Weed Eaters
Tools
Tool Boxes
Washer and Dryer
Small Refrigerator
Dorm Refrigerator
2 Custom Made Hat Stands
Deer Head Mounts
Mounted Bass
Antique Hay Fork
Antique Yok
Antique Horse Collar Mirror
Air Compressor
Target Equipment
CB Radio
Sofa and Recliner
Pots Pans and Dishes
Folding Tables
Yard Tools
Grill
Outdoor Furniture
Picnic Table
Gas Lanterns
Terms & Conditions
There will be a 10% buyer's premium added to determine the final sale price.  A total of 15% down the day of sale on real estate, balance within 30 days or less.  2018 taxes will be prorated.  Sold "AS IS WHERE IS" without expressed or implied warranty.  New buyer will receive possession day of closing.  All verbal disclosures the day of sale take precedence over any terms here.  Guaranteed marketable title, free of all liens and encumbrances.