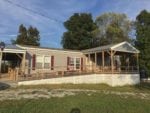 SATURDAY MAY 13th 11:00 am EST (10:00 am CST)
9 TRACTS MT. EAGLE SUBDIVISION OVERLOOKING NOLIN LAKE & PERSONAL PROPERTY
TRACTORS, FARM EQUIPMENT, IMPLEMENTS, TOOLS, ANTIQUES, HOUSE HOLD ITEM AND SO MUCH MORE!
221 WASHBURN RD., CLARKSON, KY
SOLD
9 TRACTS MT. EAGLE SUBDIVISION
TRACT 101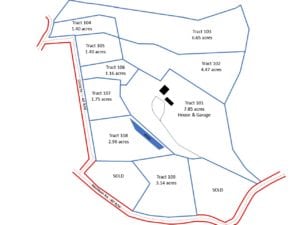 TRACT 102
TRACT 103
TRACT 104
TRACT 105
TRACT 106
TRACT 107
TRACT 108
TRACT 109
PERSONAL PROPERTY LIST:
Shelving, hand tools, deep freezer, storage bins, ladders, Christmas decoration, Weed eaters, deep fryer, coolers, water jugs, crates, shop vac, Dolly, truck box, Tractor implements, 4 foot grader box, 4 foot tiller, 4 foot bucket, three point hitch, 3 foot bush hog, 4 foot bush hog, trencher attachment, backhoe attachment for tractor, New Holland 7308 tractor, box trailer, 2005 holiday rambler fifth wheel camper 33ft., stick welder, wire welder, log chains, DeWalt chopsaw, craftsman planer brand-new, air compressor, storage bins, spindle Sander, 6 inch belt sander, tools, John Deere seed spreader, windmills, disc, cast-iron kettle, 6 foot tiller 6 foot finish mower, 6 foot right, 5 foot bush hog two, drill press, wood turning lave, metal lave, machining tools, router, antique cigar humidor, stump grinder with new teeth, hay spear, 2002 Chriscraft Mercury pontoon boat, Off-road buggy cart, antique washer, antique rolling bar, old vinyl records, antique Fairbanks weight scale, old rocking chair, stainless steel charbroil gas grill, craftsman table saw, cast iron collectibles, commercial coffee set, stand up freezer, ice cream maker, singer sewing machine, roaster cabinet, battery-powered sprayer, sandblaster, workout bike, beds & cots, TOO MANY ITEMS TO LIST!!!